Section 179 at a Glance for 2021
2021 Deduction Limit= 1,050,000
This deduction is good on new and used equipment, as well as off-the-shelf software. To take the deduction for tax year 2021, the equipment must be financed or purchased and put into service between January 1, 2021 and the end of the day on December 31, 2021.
2021 Spending Cap on equipment purchases = $2,620,000
This is the maximum amount that can be spent on equipment before the Section 179 Deduction available to your company begins to be reduced on a dollar for dollar basis. This spending cap makes Section 179 a true "small business tax incentive" (because larger businesses that spend more than $3,670,000 on equipment won't get the deduction.)
Bonus Depreciation:
100% for 2021
Bonus Depreciation is generally taken after the Section 179 Spending Cap is reached. The Bonus Depreciation is available for both new and used equipment.
The above is an overall, "birds-eye" view of the Section 179 Deduction for 2021. Contact us for more details on limits and qualifying equipment.
Here is an updated example of Section 179 at work during the 2021 tax year.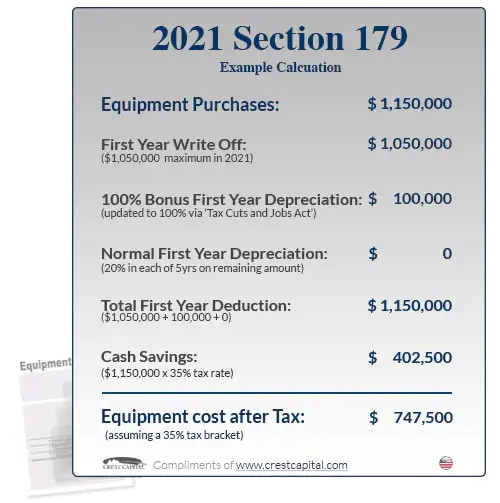 Save on Your Business Purchases with Section 179 Tax Deductions
You might not be sure you want to purchase a new vehicle for your business because you think that money is better spent somewhere else. Here at Burdick Chevrolet Buick GMC, we want to show you why purchasing new commercial vehicles for your fleet is the right call! Thanks to the introduction of the Section 179 Tax Deductions, you can now deduct the entire cost of work vehicles, saving you money in the long run! Let us help you save!
How Does Section 179 Deduction Work?
While some tax codes might seem difficult to navigate, Section 179 is fairly easy to understand. Section 179 allows businesses to deduct the full purchase price of qualifying equipment and/or software purchased or financed during the tax year. If you buy a new work vehicle from our dealership, you can deduct the full purchase price from your gross income. This deduction allows you to buy equipment and invest in your business!
How Can You Qualify for This Deduction?
To achieve Section 179 tax deduction benefits, you'll need to purchase, finance, or lease new or used vehicles during the current tax year. You must also use your new work vehicle for business purposes more than 50 percent of the time to qualify for the Section 179 Tax Deduction. You'll want to make sure that your business takes up more of your vehicle's time than anything else, and you'll benefit from this deduction!
How Can Burdick Chevrolet Buick GMC Help?
Our finance team can walk you through the benefits of the Section 179 Tax Deduction options. We'll walk you through available work vehicles at our dealership, like the Chevy Silverado 1500 or the GMC Sierra HD trucks. No matter what options work for your business, we'll help you apply the benefits of this tax deduction and help you deduct the purchase price!
Let us know you're buying for your business and save today!